Coolers are crucial for the safe and reliable operation of centrifugal air compressors. Without proper cooling, the compressed air can reach high temperatures, leading to inefficiencies in the compressor's process, reduced lifespan, and even equipment failure.
We offer new coolers for your Centac and Cameron Joy compressors and clean, test, and repair services.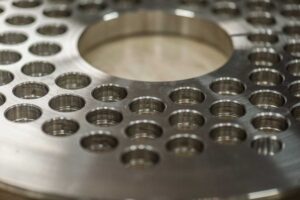 Coolers available for IR and Cameron Joy centrifugal compressor models
They're stored at our facility and available for large and small compressors for immediate shipment.
All coolers receive an air test after assembly to ensure they are 100% leak-free before shipment and installation, backed by our Zero-Leak Guarantee.

Air testing is a more robust test media than water to ensure zero leakage.

Tested in Air Relief certified test fixtures
All construction materials are certified to ASTM standards for physical, chemical, and mechanical properties
Manufactured in the US with globally sourced parts
Each is uniquely identified and can be traced back to its source materials, assembly, and testing reports
We offer the lowest cost and highest value on the market
Cooler CTR (Clean, Test, Repair)
Our repair facility is operated in-house for fast turnaround and lower cost
Tested in Air Relief certified test fixtures
The process is controlled in-house with our own environmentally-friendly chemicals and cleaning tanks
We provide thorough inspections for quality assurance